ST1 Events & News
Click images for more-
Please come along and see THE SAINT CAR ST1 check the listing HERE
On the Telly! Philip Glenister with 71 DXC aka 'ST 1' the 'original' Roger Moore TV Saint Car on C4 'For the Love Of Cars' this coming Sunday episode 5.
Link to the programme information on C4 http://www.channel4.com/programmes/for-the-love-of-cars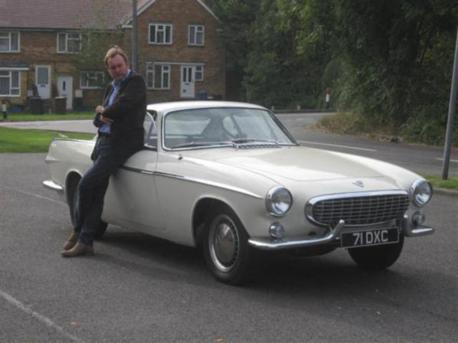 See more pictures from the day at Elstree here

ST 1's participation in the Marches Transport Festival, held in conjuction with the Lublow Spring Food Festival inside Ludlow Castle was a great sucess with the Saint Car coming away on Sunday afrernoon with Best Car in Class award.
Please go here to see more on the festival.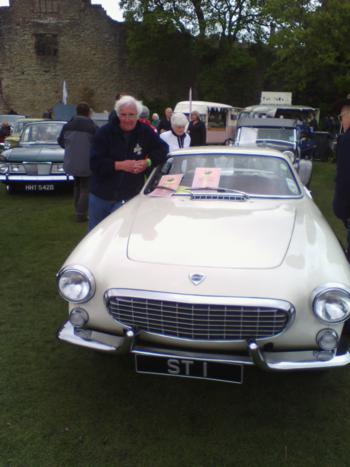 Please click here for recent radio interviews about 71 DXC

It was with great pride I accepted 'The Golden Spanner' for Restorer of the Year from Practical Classics I was voted the winner by visitors to the show at Birmingham's NEC on Sunday, April 13.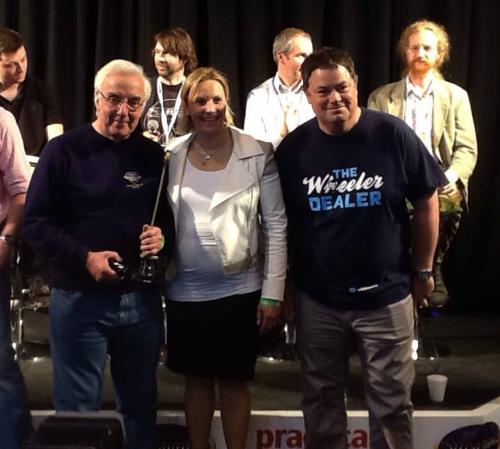 Practical Classics Restorer of the Year competition for my 1962 Volvo P1800 Saint Car ST1 presented by Vicky butler-Henderson & Mike 'Wheeler Dealer' Brewer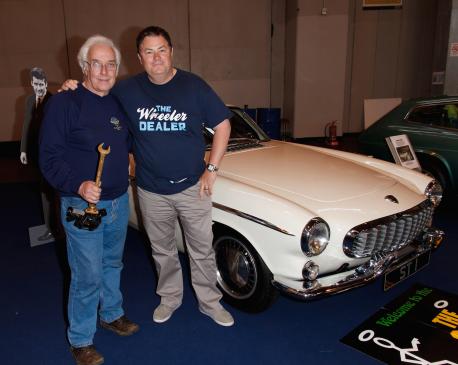 The prized GOLDEN SPANNER! See more in the Gallery section click here

Kidderminster Shuttle - Bewdley engineer wins Restorer of the Year award see news item here please:
Ludlow Festival - See ST1 at the show https://www.facebook.com/PracticalClassics/photos/a.268875403130754.70714.225407620810866/774929719191984/?type=1&theater

The 'ST1' had pride of place at the biggest national classic car show the NEC in November - on the Volvo Enthusiasts Club Stand see more here

Please see below the Practical Classics feature on ST1 it finished in the 10 TEN Restoratrions of the Year!
Latest a fantastic photoshoot by Laurens Parsons Photography professional shoot for Practical Classics magazine feature, see below
Here are some interesting recent articles on 71 DXc's restoration and history. Daily Mail article link here
Telegraph article link here Wheels article link here AOL 1800 article lnk here USA breaking news article link here
MSN Bing article link here
Radio Interviews on ST1
Two radio interviews about the history the search for and eventual epic restoration of 71 DXC
Kevin Price mp3 credited to Andrew @ BBC Hereford & Worcester 2014
Summer SAT Saint Car Ian & Nina mp3
Interview from Club Stand at the Worcester Motor Festival 2014
TV shoot - Channel 4 For The Love Of Cars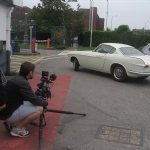 Below link to Interview with Phil and Ant from TV's 'For the Love of Cars' which will feature my 'original' Roger Moore TV Saint Car 'ST 1' aka 71 DXC in the next episode to be shown Sunday (17th) Evening on C4

http://www.channel4.com/info/press/news/philip-glenister-and-ant-anstead-interview-for-for-the-love-of-cars

Johnny Goodman
I had a lovely day last September in the company of Johnny, filming him for a TV programe with my Saint Car 71 DXC aka ST 1, which he picked up new for first day of filming of The Saint. The day was spent in and around Elstree Studios - A lovely man who I had communicated with for some time and was pleased to finally meet him and discuss his memories of 71 DXC.

I wish I had had more time to talk to him, a lovely man who will be greatly missed.

http://www.thetimes.co.uk/tto/opinion/obituaries/article4418546.ece?shareToken=69d6b53925dbaabcc6d3ca5cbfdd9d75
ST1 in Ludlow

Just to let you know ST 1's participation in the Marches Transport Festival, held in conjuction with the Ludlow Spring Food Festival inside Ludlow Castle was a great sucess with the Saint Car coming away on Sunday afrernoon with Best Car in Class award.

For those not aware of the show, this was its 30th year and the Castle forms an excellent backdrop for the event which includes a road run on the Sunday morning. Worth a thought for a Club display next year?

Interestingly I met some officals from the Volvo Enthusiasts Club of New Zealand who had come to the event to see ST 1. Their daughter now lives in UK and we hope to catch up again before they reurn home for them to take a spin in.

---

The Saint's Volvo on show at the NEC last year with the VEC

71 DXC was again at the Classic Motor Show 15th-17th November, 2013, at the NEC Birmingham pride of place on the Volvo Enthusiasts Club.

NEC CLASSIC CAR SHOW 2013 WHAT A WEEKEND!

Or

'How to get 8 cars, one Caravan and 2 Volvo Bikes onto a Postage stamp!'

Every member of the club display team have agreed that the event held this year has to be the most successful we have had for years.

The superb cross section of cars we were able to drum up included a rare PV445 Convertible (Kevin Price), a PV210 Duett and 221 Amazon estate (Tony and Gillian Whitton), a 131 Amazon (Robert Whitton), a late model 244 (Robert Hughes), an 1800E (Colin and Pauline Atkinson) and an 1800ES (Ian Dunlop) – centre stage was the fabulous 1962 Jensen built 1800 used in the first series of "The Saint" and owned by our illustrious Founder, Kevin Price!!!

The cars were joined by a gloriously Green classic 2-berth 1973 Carlight Caribbean caravan (Gillian Whitton). And two Volvo bikes – made from recycled plastic (Colin Hughes).

Along the "back wall" were positioned the Light Blue Duett (a restoration project covered in years of soot and snail trails) and the Carlight Caribbean (also a major snail trailed restoration project) – the Carlight caravan provided a dumping ground for excess bits, but also drew in hoards of fans of classic caravans, along with those just fascinated by the colour (it's know as The Jolly Green giant – and not just for the green algae growing on the roof!). The Turquoise 1800ES and the two Volvo bikes finished the rear line up.

On the front left hand side of the stand the White PV convertible was being pulled along by a team of reindeer and adorned with Christmas parcels beautifully wrapped up by Molly Shaw, with lots of tinsel and a rather grim looking Father Christmas who we all blamed for the three little children leaning against the cars crying – or hiding?

Next to the convertible sat the Saint Car with 'Roger' - which was causing quite a stir. Many visitors to the stand had come purely to see this epic restoration project which had just been featured in Practical Classics.

A monumental journey for Kevin Price from finding THE car in 1991, through years negotiating to buy it and then followed by the sixteen years of blood, sweat and tears that have culminated in a testament to Kevin's determination to find and preserve this iconic car for posterity.

Next to the Saint Car sat the Light Blue 221 Amazon estate; body restored in 2012 and evoking fond memories to many of the shows visitors.

In line next was the California White 131 Amazon; restoration almost finished, it had been hoped to MOT and drive the car up to the event but time ran out and, with just the brakes(!) left to do, it travelled on a transporter!

The Mid Blue 244 was next and so many visitors could remember being driven in one as children.

One young lady spending ages photographing every angle on the car revisiting her childhood in her Dad's 240.

On the front right hand side sat the Red 1800E; this is probably the best E in the country and as always it was immaculately presented.

Thanks must go to John Kemp for giving up his weekend to come and help on the stand, his knowledge of the Amazon model (as well as others) was invaluable. Also thanks to 'Eric' or new tea urn who was kept very busy all weekend!

From the opening of the show at 9.30 am on Friday to close of play at 5.30 pm on Sunday there was a constant stream of visitors anxious to talk about the cars on the stand and the caravan, to tell us about their own classic loves or to say that their Dad "had one of those". Many were on the lookout for spares for projects they were working on themselves, others looking for cars to buy – Robert Hughes reckoned he could have sold the entire stand (including the caravan) several times over!

Our re-launched magazine was collected from the printers in time to be handed to prospective new members and we also had all of the available membership forms snapped up within the first two days. Classic Volvos are certainly attracting a renewed enthusiasm and the Enthusiasts Club will undoubtedly benefit from the interest shown.

Stand breakdown commenced immediately after the show and many of the cars left that night, with the remainder being cleared the following morning along with the Club carpet tiles and fencing. Grateful thanks must go to Albe George who helped transport of Kevin's Saint Car to the show plus the stand breakdown, with the loading of the van and then drove it back to Bewdley; a great help and a great helper – thank you Albe.

It is hoped that we will have an even bigger stand next year when we will be celebrating our 25th Anniversary and Kevin is aiming to have one car for each year of the Club's existence. He will be looking for cars that will reflect the variety that exists within the Club and if you would like your car to be featured on the stand – get in touch! Entry passes are provided for cars, along with wristbands for drivers and one passenger.

Members who have cars that are included on the stand must be prepared to spend most of the weekend with their car and to talk to visitors, answering questions about their car and their particular model. Cars will also need to be left unlocked so that interiors can be viewed - but only entered with the owner's consent. Breaks are permitted to allow attendees a chance to see the show, eat – or go to the lavatory!

If you are still interested get in touch with Kevin Price, contact details in the front of the magazine or on the Club website.

2014 promises to be an even greater spectacle! Come and join in, we always love to welcome true Volvo Enthusiasts.

Here is a great article in December Practical Classics - pdf click

---

The Saint Revisited with 71 DXC

THE SAINT by Chris Oaten


A tribute to the cult ITC 1960's series The Saint, which originally starred Roger Moore the scenes are featured in a magazine.

A fantastic period piece recreation & tribute to the famous ITC series with even a stand in Roger Moore as the dashing hero in a casino setting. Then in to his loyal 'ST1' off to battle evil doers or maybe just traffic calming bumps or wardens. A great scene setting photoshoot masterminded by Chris Oaten of O-Ten Photography.

View more of this article and ST1 here and see more of his 60's TV series tributes.

---

ST1 on 'For the Love of Cars' - Sunday 17th May Channel 4

Below link to Interview with Phil and Ant from TV's 'For the Love of Cars' which will feature my 'original' Roger Moore TV Saint Car 'ST 1' aka 71 DXC in the next episode to be shown Sunday (17th) Evening on C4

http://www.channel4.com/info/press/news/philip-glenister-and-ant-anstead-interview-for-for-the-love-of-cars

Johnny Goodman
I had a lovely day last September in the company of Johnny, filming him for a TV programe with my Saint Car 71 DXC aka ST 1, which he picked up new for first day of filming of The Saint. The day was spent in and around Elstree Studios - A lovely man who I had communicated with for some time and was pleased to finally meet him and discuss his memories of 71 DXC.

I wish I had had more time to talk to him, a lovely man who will be greatly missed.

http://www.thetimes.co.uk/tto/opinion/obituaries/article4418546.ece?shareToken=69d6b53925dbaabcc6d3ca5cbfdd9d75

---

Practical Classics magazine

Featured in Practical Classics December issue pdf version here (opens in new window).

See the whole photoshoot here>-

Practical Classics & NEC show information >--

---

Magnificent at Manchester!

ST 1 (aka 71 DXC) had pride of place at the front of the stand, with Gillian and Tony Whitton's 1800 convertible beside it, Robert Hughes' powder blue 240 (all original) was next and then Colin Hughes LowRider - which was a considerable draw each time visitors heard the hydraulic pumps start up!

The Saint Car and the convertible had made a pretty picture on the M6, driving in "convoy" from Bewdley. Having only done 30 miles since its MOT, 71 DXC performed flawlessly.

Here is a Classic Car Buyer article on the Manchester Classic Car Show

featuring The Saint Car pdf>> Named as their 'Star of the Show'

---

ST1 at the Bristol Classic Restoration Show Nov 2013

ST1 again had pride of place at The Footman James Bristol Classic Restoration Show November 2013 held at the Bath & West Showground, Shepton Mallet, Somerset.

The Footman James Bristol Classic Restoration Show 2013

This year's Bristol Classic Vehicle Restoration Show was again held at the popular venue of the Bath & West Showground, Shepton Mallet, Somerset.

The Volvo Enthusiasts Club, as in previous year's, took a large stand in the Showering Hall, with 3 Volvo's on display - 2 1800's and a 740 Pick-up.

Pride of place was Kevin's, our Founder, recently returned to the road, after 40 years, 1962 P1800 which was used by now Sir Roger Moore in the very first series of TV's The Saint – ST 1 aka 71 DXC.

Keeping ST 1 company was Gavin's, of Count Olaf Volvo Specialists - Wellington, Somerset Tel: 07796005177, 'PUF' a 1964 1800S which is undergoing the initial stages of a full restoration in his workshop at Foxmoor Industrial Estate, Wellington. Gavin, used to pass by this car on a drive in London on his way to school and never thought one day he would be lucky enough to be its owner. The car will require extensive work to the body which has suffered badly from rust and Gavin had removed, for the show, several sections from the outer panels to allow visitors to see the true extent of corrosion and what was required to rebuild the car. The car caused much interest with visitors who were keen to discuss the work required and methods to be used.

Also on the stand was Colin Hughes, the Club's Principle Contact, very well converted Volvo 740 Pick-up which as covered a staggering 1 Million plus Miles. The 740 Estate was used as a Taxi before being converted into a pick-up by a motor cycle enthusiast to carry his bikes – Why didn't Volvo do it, excellent!

Also manning the stand was Chris Tye, a fellow Jensen P1800 owner, who is currently restoring one of the very rare P1800S's (only 2000 built) which were built by Volvo using almost all the same parts as the Jensen cars but in Sweden, before the new bodyshell of the 1964 1800S was produced with the later seats and interior.

Visiting the Show over the weekend were a number of Volvo's which included a very rare 1972 1800E owner by Douglas Rice from the USA, who purchased the US Spec car new in 1972 while working temporarily in mainland Europe. After working in Europe Douglas moved to Britain where he still lives and so the car never actually got to the US. The car is very unusual, being one the very last coupe models produced, which was built alongside the 1800ES production. The car features many of the parts used on the Estate, including the interior and steel wheels. Kevin, who is recognised as the authority on the 1800 informed the owner that he knew to only 2 RHD Type 'W' 1800E's in the UK and had only actually seen one in the flesh, coincidently the same light blue metallic (code 111) and black interior.

Throughout the show Members of the Club manning the stand were kept very busy answering Technical and Membership queries. A great show! If you would like to help in the future why not contact Kevin.

Our thanks to all those who came along over the weekend and supported the Show and the Volvo Enthusiasts Club. Also to those members who brought along their cars either on the stand or in the Classic Carpark and those manning the Club display.

Our next visit to Shepton Mallet will be for Great Western Autojumble which this year will also have Club Displays and Live Music from the Rock & Roll Years, so put it in your diary and come along, I am sure it will be a great weekend.

---

PC Photo Shoot

Laurens Parsons Photography professional shoot for Practical Classics magazine feature.

A note from Kevin about the shoot please click here>--

And the original magazine article here>--

Practical Classics & NEC show information >--

---

ST1 at new Volvo dealership

THE SAINT GOES TO LINCOLN

-Along with a PV and Amazon!

Immediately after the clearing of the Club stand at the NEC on 18th November, I was once again in the privileged position of sitting behind the steering wheel of ST 1 (aka 71 DXC) – the ORIGINAL 1962 SAINT CAR. This time I had the whole drive up to Lincoln to myself – how lucky am I!

When Club Founder, Kevin Price, was asked to take The Saint Car and a couple of others to Stoneacre Volvo in Lincoln, he very generously asked me to drive the 1800 to and from the event, Kevin then drove his PV445 Convertible and my Husband Tony drove our 221 Amazon estate.

The rather wet drive up was uneventful until Pixie (the Amazon) developed a fuel blockage just five miles from the dealership! A new fuel filter and a blow through got the car to our destination. The 1800 was, of course, faultless.

Stoneacre were celebrating the opening of their brand new showroom with an evening event that was attended by many Volvo UK Directors, as well as invited guests of their car buying clientele. Canapes and wine were on offer and the evening ended with an impressive fireworks display.

It is some years since I've attended a dealership launch of any sort and I found it a very different experience now. Very few of the party goers showed any interest in the Classic Cars and had no idea of the 1800's pedigree, even the dealership staff were baffled by older mechanicals! It was hard having to bite my tongue when guests leant on car wings. The Saint Car wasn't immune from such treatment either, one couple taking drinks into the front seats! I didn't see that or I would have released my tongue and lashed with it.

The return was interesting too, the convertible ran out of fuel and when pulling off the M69 motorway we discovered that there was no access back onto it!! A hair raising trip through Nuneaton and other parts of the Midlands finally brought us out onto the M6 and then back to Bewdley.

Convertible and Saint Car safely ensconced in their garaging Tony and I headed back to Suffolk, Pixie camping out in temporary accommodation for a couple of nights.

Thank you Kevin for giving me the chance to drive your beautiful car again, it's always such a pleasure.

Gillian Whitton

---

71 DXC MOT Test 12th September 2013

71 DXC aka ST 1 the 'Original' TV Saint Car goes for first MOT in over 40 years!

It has been a long time in the making but today 71 DXC went for its first MOT in over 40 years and passed with flying colours!.

Stuart Tomkins of the Ford Main Dealership - St James's Garage, Bridgnorth, Shropshire was the MOT Tester.

Having completed the test Stuart remarked how impressed he was with the quality of the workmanship and presentation of the car.

Many thanks to all those who have helped in anyway to bring life back to a very special car - The 'Original' Saint Car is now very much back on the road.

Road Tax from DVLA in Worcester today so 71 DXC is finally legally on the road.

Click on and read the complete timeline from 'as found' to back on the road for more adventures.

---

A Meeting of 'The Saints'

Following our very successful stand at the Classic Motor Show, held at the NEC Birmingham, final clearing of the stand was undertaking was undertaken by a small band of Club Members on the following Monday morning.

While this was being undertaken Kevin was joined on the remains of our stand by Mike Smith owner of the 'Original' Return of the Saint Jaguar XJS and his car.

Kevin and Mike had been for some time been trying to organise for the 2 very special cars to meet and the setting inside one of the Halls made an excellent backdrop for an impromptu photo shoot, looking very much like the inside of one of the large sets at Pinewood or Elstree.

---

71 DXC goes under it's own steam!

First time on road in over 40 years I covered around 3 miles without a problem - quite a milestone.

---

71 DXC will be on display at the Manchester Classic Car Show

71 DXC will be on display at the Manchester Classic Car Show - 21st & 22nd September on the Volvo Enthusiasts Club Stand in Hall 4, Stand H4 C550.
First time that the Car has been exhibited in the North. A welcome return to where the bodyshell was restored - by Dave Gate of Phoenix Motor bodies

Previously only seen at Bristol Classic & Restoration Shows and Classic Motor Show held at NEC Birmingham 2012 (pictured).

This is a brand new Indoor show being held at the Event City in the Trafford Centre, Manchester. The Club has booked a stand at this event and hope that members will come along and support the new venture. If you would like to help in anyway please contact Kevin- Club Contact: Kevin Price kevinprice.vec@btinternet.com www.manchesterclassiccarshow.com

Telegraph motoring news article on ST1's appearance at the Manchester classic car show please follow the link here

Latest Report from Box Core News & Events published 31-08-13 shown in full below & print a pdf version here

Roger Moore's 'The Saint' Volvo; revived and coming to Manchester!

Return of the Saint - Kevin Price and the iconic Volvo P1800. Photo courtesy The Footman James Manchester Classic Car Show.

THE FOOTMAN JAMES MANCHESTER CLASSIC CAR SHOW: Manchester, UK - August 30, 2013 – The car made famous by Roger Moore back in the 60's TV series 'The Saint' visits Manchester for the first time on September 21st and 22nd at The Footman James Manchester Classic Car Show, EventCity, Trafford Centre.

The iconic Volvo P1800 was found rotting away in a Welsh barn over 20 years ago after a long search by keen Volvo enthusiast Kevin Price. When he finally found and confirmed the identity of the car Kevin discovered it was almost unrecognisable as the sporty white coupe so synonymous with 60's TV glamour. The bodywork was all but destroyed, the engine was in rusty pieces all over the back seat and essentially the car was only good for the scrapyard. This is where it would have ended up had Kevin not had the foresight to seek it out and save it, recognising the vehicle's unique history. Now, after a huge restoration project spanning decades, the car is back to its former glory and has recently moved under its own power for the very first time.

Kevin Price, of the Volvo Enthusiasts Club said: "We're very excited to be showing the original car from the Saint TV series in Manchester at The Footman James Manchester Classic Car Show on September the 21st and 22nd at EventCity. This will be the first time the car has ever been seen at a show anywhere having been completely finished in every way. I might even give it a good 'run out' and drive it there from Bewdley rather than trailer it. I'm sure we'll turn a few heads!"

Show organiser Andy Rouse said: "We're very excited to be bringing a top quality classic motoring event to Manchester and the North West of England. The response from the classic motoring community in the region has been superb and the cars we've got lined up are simply wonderful. The Saint car is a project we've been aware of over the years and it'll be great to see the final results of Kevin's incredible hard work and dedication. We look forward to seeing everyone at Event City on Sept 21st and 22nd."

Footman James' managing director Andy Fairchild added: "We are looking forward to seeing the Volvo P1800 again as, having sponsored the car's restoration; it holds a special place in the hearts of many people here at Footman James. Supporting restorations, such as the Volvo P1800 enables enthusiasts to breathe new life into the classics of yesteryear, ensuring they take centre stage once more and thus securing the future of the industry for all. I am sure the car will be a huge crowd pleaser at the Manchester show."

Reproduced from the Box Core News link here:

---

71 DXC unveiled at NEC

71 DXC shown to the public at the NEC show Nov 2012 on the Volvo Enthusiasts Club stand, click image for more pictures.

The 2012 Footman James Classic Motor Show

Celebrating the 50th Birthday of 'The Saint' & his Volvo P1800

The theme of this year's Footman James Classic Motor Show, held at the NEC Birmingham each November was 'What's the Story' and what a story we had to tell on our Club Stand at this year's Show.

As promised at last years event Kevin Price our Founder had, despite all the previous problems with paintwork etc, finished his rebuild of 71 DXC aka ST 1, the 'Original' Roger Moore Volvo P1800 used in the very first series of TV's "The Saint".

Many Classic Car publications, Footman James and the NEC on their websites etc had acknowledged that on the Friday morning of the show 71 DXC, aka ST 1, would be unveiled to the public on our club Stand at the Show, following a five year epic rebuild.

Preparations for the show had started early that week with Colin & May Tatlow's well known Volvo PV 444-08 being collected from Cornwall and The Saint car being returned from Richard Felton of Specialist Upholstery in Doncaster to the Midlands. Richard had been burning the midnight oil getting the interior finished ready for the Show. Both cars were duly delivered to the Club Stand at the NEC ready for the build up on the Thursday.

Building the Stand:

Thursday morning saw Club Members arrive with their cars to build the display. First job being to lay the mountain of carpet tiles needed to cover the stand. Next the most important, 'The Tea Shed' which also acted as a display for the pictures telling the story of ST 1's momentous rebuild. Cars positioned, polished etc; it was off for a good night's sleep before the show opened the next morning.

Unveiling the restored 'Original' Roger Moore Saint Car – 71 DXC aka ST 1

Unveiling of the Saint car was sponsored by 71 DXC's insurers - Footman James and was undertaken, in the company of a large crowd of visitors, by Malcolm Christopher from the original Production crew of The Saint, supported by Andy Fairchild – Managing Director of Footman James and Kevin Price, owner and Founder/Hon. President of the Volvo Enthusiasts Club.

Read the Wheel World Review of the Classic Motor Show unveiling here-

The Show:

Without doubt this was the best Classic Motor Show so far. Throughout the 3 days of the show members of the VEC Display Team were kept very busy with large crowds of visitors to our stand, eager to talk to the owners about their cars etc. – we even had a visit from 'The Stig'.

Also at the show Colin & May Tatlow were presented by Colin Hughes with Hon. Club Membership for their contribution to the club and in particular their support of Club Stands over the past 15 years with their PV444-08, which has been a regular feature or club displays in the past.

A great show – can't wait until next year!!

Reports of our travels will be added soon!

---

71DXC & Pelle Petterson

Pelle Petterson the designer of the P1800 and 71 DXC.

---

The Saint car at the Bristol Classic Car Show April

The 34th Bristol Classic Car Show – 20th & 21st April 2013

This was without doubt the best Bristol Classic Car Show so far and our Club Stand featured 2 Jensen built P1800's – a very rare sight considering there under 20 on the road in Britain today and also Colin Hughes's 'all singing and dancing' 760 turbo Lowliner Estate.

Michele Saunder's 1962 P1800. A very interesting example of the model, which was originally purchased in the UK but spent the first 19 years of its life in Malaysia owned by a doctor. He returned it to the UK in 1982 and spent further 9 years on the road before being laid up for a further 11 years. The Car made its first appearance at the Bristol Show on our stand in 2011 following a complete restoration.

Purchased by the present owner in 2012, the car has had some further restoration, which includes an unleaded Cylinder Head Conversion by Cornwall Engine Services and other work by Brian Gue of Amazonia.

Joining the P1800's was Colin's Volvo 760 Turbo Lowrider Estate, which caused a lot of interest, particularly with the younger visitors when standing on only 3 wheels or dancing to the on board music! The Lowrider project was started in 2003 by Russ Venril (Birmingham) and continued by Ray Mercer (Bury) in 2008.

The hydraulic system is by Pro-Hopper and cost £2500 when purchased in 2003. It can lift the body 8 inches at the front and 10 inches at the rear. Each axle and each wheel can be independently operated, which enables the car to stand and be driven on 3 wheels. The system operates through two 36 volt pumps, powered by six 12 volt 110 amp heavy duty batteries in the rear, the batteries were replaced in 2010 for £437.10 (trade price) and should last for 3 years if treated with respect and charged and handled correctly.

Paintwork is metal flake PF 005 Orion Cerise and AF 0111 Holo Silver and was undertaken by Dragon Art in Birmingham

The 800 watt sound system is loud and can be linked to the interior and under floor lighting system.

The 14" chrome spoke wheels were hand built at a cost of £1600 and need regular and through cleaning.

Mechanically it is the tried and tested 4 cylinder Volvo B230 ET engine with a few modifications, coupled to a 4 speed AW71 automatic gearbox. Engine produces 182 bhp The modifications have added some 250 kg to it and it now weighs 1710 kg (3770 lbs), about 1.65 tons in old money

Current mileage is 166,000 and we have full history and documentation from new.

The car is used on the road and currently and does not have a garage due to other projects .Planned enhancement is upgrade the charging process to maintain and recharge the lifting system using the existing alternator, although we do not know how practical this concept is, any ideas are welcomed.

As promised at last year's Classic and the Restoration show, Kevin returned with his 'original' Roger Moore TV Saint Car aka ST 1, now complete following an epic 6 year restoration and it was awarded 'Highly Commended. This for those who have not yet seen the car is the actual car used by Roger Moore in the very first episode of The Saint – The Talented Husband.

Next year's Club Stand is already confirmed, so if you would like to come along and help on the Sand or have your Volvo considered for display, why not contact Kevin with your details. Next year the Show will take place June, not April due to building work on the Showground .

Many thanks to all those Members who came along and gave their support and to all those who helped build, man and brought along their cars for our display.

---

71 DXC

Bristol Restoration Show 2012

---
THE SAINT ST1